About Lila B. Lounge
Lila B. Lounge is an intimate gathering spot, just steps from the Denver Tech Center where you can socialize, drink and snack in stylish comfort. We are open five nights a week-Tuesday through Saturday- and offer a killer happy hour and live music. Enjoy original menu items such as delicious Bruschetta or tender Beef Satay, as well as a full bar with a wide variety of wines, liquors and beer. In the summer sit out on our patio and soak in the Colorado sunshine. We cater to guests coming to a comedy show as well as residents of the local community.
Lila B. [1st Floor] at Comedy Works South at the Landmark first made its debut in October of 2008. The lounge, named after owner Wende Curtis' grandmother, is the perfect place to wind down after work, grab a drink before dinner or stop off for a nightcap.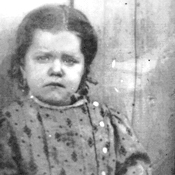 Meet the Original Lila B.
Born in the heart of Oklahoma in 1905, Lila B. was a tough girl that grew into a strong woman who experienced many hardships throughout her life. At the age of six her mother passed and she was left in the world alone with her father. Over the years, Lila B. married and raised seven children of her own.
Wende's father, Terry Curtis, was the youngest of Lila's children. Lila B. lived until Wende was 14 years old. Wende has vivid memories of her grandmother. "She was the epitome of a grandmother! She was sweet, she cooked and baked for me… she was a great lady, a strong lady!" Wende recalls.
Today Wende honors her grandmother's memory in Lila B. Lounge.